Good morning, Quartz readers!
---
Here's what you need to know
India's Chandrayaan-3 spacecraft entered the Moon's orbit. The Indian Space Research Organization thinks it'll make contact with the lunar surface on Aug. 23.

How Coursera CEO Jeff Maggioncalda is re-strategizing in the age of AI
Tesla's CFO is stepping down after 13 years at the EV maker. The shakeup comes amid shareholder frustration with CEO Elon Musk's divided attention.
Barbie's global box office take crossed $1 billion. Greta Gerwig's thoroughly pink movie is climbing up the ranks of other films directed by women (more below).
Thousands are being evacuated from the World Scout Jamboree in South Korea. Extreme heat and now a typhoon threat has affected more than 40,000 young people attending the event.
---
Hydrogen trains aren't chugging along as hoped
The first adopter of commercial hydrogen trains is switching tracks and eyeing an all-electric future.
Driver shortages, refueling problems, and technical hurdles have persuaded Germany's Lower Saxony government to abandon its hydrogen train dreams just a year after they launched commercially. The reasoning? Cost.

80%: How much more expensive hydrogen trains will be, in the long run, compared to electric options, according to a 2022 study commissioned by the German state of Baden-Württemberg

But the high costs aren't stopping other countries, including India, China, and the US, from giving up on hydrogen rail travel. Quartz's Ananya Bhattacharya gives us a status check.
---
The highest-grossing films directed by women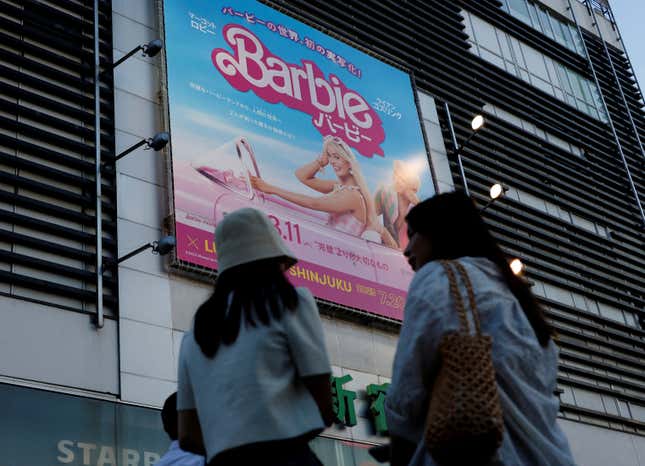 Barbie's global box office take crossed the $1 billion threshold, meaning Greta Gerwig's film has made more money than any other film by a solo woman director.

But Barbie isn't the only film directed by a woman to rake in the big bucks—in fact, it could be poised to outstrip the three current record holders that are ahead of it.
---
Quartz's most popular
🚗 Hyundai and Kia are recalling close to 92,000 cars in the US over fire risk
💰 Taylor Swift gave six-figure bonuses to the Eras Tour workers in the US
🪄 The superconducting silver bullet
💸 The right to pay anonymously has become part of an EU culture war
🪡 Etsy is scrambling to avert a widespread sellers' strike
😁 People who donate to charity seem to have one thing in common
---
Surprising discoveries
You don't swallow spiders in your sleep. That whole "eight a year" urban legend is just that: an urban legend.

Texas Pete hot sauce isn't from Texas. A legal battle is heating up over the branding.

A long-running legal battle over Kevin Costner's bronze bison isn't cooling, either. It relates to a huge sculpture that was commissioned back in 1994.

There will be a "disease X." Don't freak out—it's just the name UK researchers are giving to the next potential pandemic pathogen they're studying, because everyone loves the letter X.

Oppenheimer is now the highest-grossing film about World War II. It has surpassed both Dunkirk and Saving Private Ryan.

---
Our best wishes for a productive day. Send any news, comments, snoring spiders, and North Carolina Pete hot sauce to talk@qz.com. Reader support makes Quartz available to all—become a member. Today's Daily Brief was brought to you by Morgan Haefner.