For punters on the long-promised cage fight between the world's biggest tech billionaires, the past weekend offered a wild, three-act saga of drama and anticlimax.

Will Threads help or hurt Meta's stock value?
It's been over a month since Elon Musk and Mark Zuckerberg agreed to fight each other. Since then, though, the two have only been sparring online—especially after Zuckerberg launched Threads, Meta's Twitter-killer app that garnered record-breaking downloads and high engagement in its very first week.

Offline, though, the ring is still empty. Musk is 6"2 and significantly heavier than Zuckerberg, 5"7. On the other hand, Zuckerberg is 13 years younger and routinely trains with mixed martial arts professionals. Perhaps that's why Zuckerberg seems more ready than Musk—and certainly so after this weekend.

Act 1: Musk announces a fight livestream for charity
On Aug. 6, Musk declared on X—formerly Twitter—that his fight with Zuckerberg will be livestreamed on the platform, with proceeds going to charity. On Threads, in response, Zuckerberg shot back: "Shouldn't we use a more reliable platform that can actually raise money for charity?"

Ever since Musk bought Twitter last October, for $44 billion, it has been riddled with glitches, from links and images failing to load to users not being able to read tweets. Twitter's biggest political event so far—the formal launch of a bid at the presidency by Ron DeSantis, the governor of Florida—did not go smoothly.
Act 2: Musk claims he's training for the fight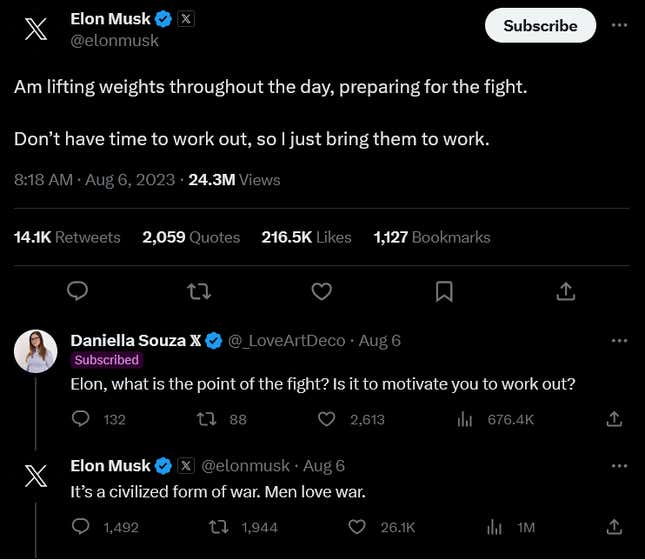 Act 3: Musk presses pause for a healthcare check
As of yet, Musk and Zuckerberg haven't agreed on a date for their fight. On Threads, Zuckerberg recently said he was "ready today" and said that he had suggested August 26, but that Musk had yet to confirm. "Not holding my breath," he wrote.
That schedule got blurrier still over the weekend, just after Musk had bragged about working out. The exact date is "still in flux," he wrote, because he has to do some healthcare housekeeping, which includes getting an MRI of his neck and upper back on Monday (Aug. 7). Musk has complained of back pain since March 2022, after hurting himself during a sumo fight.
"May require surgery before the fight can happen. Will know this week," Musk wrote.

Musk or not, Zuckerberg is always open to an MMA fight. "I love this sport and will continue competing with people who train no matter what happens here," he wrote.
Related stories
👀 Mark Zuckerberg and Elon Musk promised a "cage match." Instead, they're squabbling online.
🚩 Twitter's reaction to Threads showed Mark Zuckerberg's platform presents a real threat
📲 Meta's Twitter-killer app has an Instagram advantage that smaller rivals lack